Everyone has a happy pace. What's a happy pace? It's that pace that makes you feel strong, excited, confident, healthy and fit. It's the pace that gets you up before the sun, or keeps you going after sunset. It's challenging and rewarding, it's motivating and inspiring. Your happy pace is ultimately what gets you to the starting line and across the finish line.
Chasing your happy pace starts as a seemingly simple task but as you dive into it, you realize there's more to it than you thought. Let Coach Alex do the leg work by creating a personalized program designed for you, your goals and your lifestyle. Whether you're just getting in to the sport, are returning to the sport, are looking to reach that new personal best or tackle a new distance, Coach Alex will be with you every step of the way helping you find your happy pace.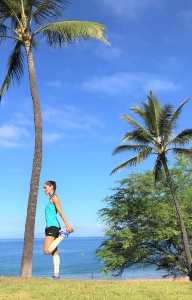 How this works:
Choose your package and sign up!
Once signed up, you'll receive a welcome email and questionnaire
After the questionnaire is reviewed, a 30 minute phone appointment will be scheduled
Within 5-7 days you'll receive your initial personalized training plan and toolkit.
*Run coaching can be combined with nutrition coaching.
Basic Coaching
12, 16, 20 and 24 week plans
$29.99/4 weeks
Included
-An initial assessment
-A customized and detailed training plan
-Running toolkit
-Weekly check-ins via email or text
-Access to discounts on nutrition products
-Feedback, guidance and support
All Access Coaching
12, 16, 20 and 24 week plans
$74.99/4 weeks
Included
-An initial assessment
-A customized and detailed training plan
-Running toolkit
-Ongoing adjustments to the initial plan
-Detailed assessment and analysis
-Unlimited contact via email or text
-Optional monthly check-in via phone
-Advice on running form and footwear
-Advice on recovery, strength exercises and cross training
-Race day strategy and analysis
-Access to discounts on nutrition products
-Feedback, guidance and support
6 Week Running Boot Camp
Not sure if running is for you?
This is a great introduction to running
and is designed to get you running a 5K
Included:
-6 Week Training Program
-Running Toolkit to get you started
-Weekly check-ins via email or text